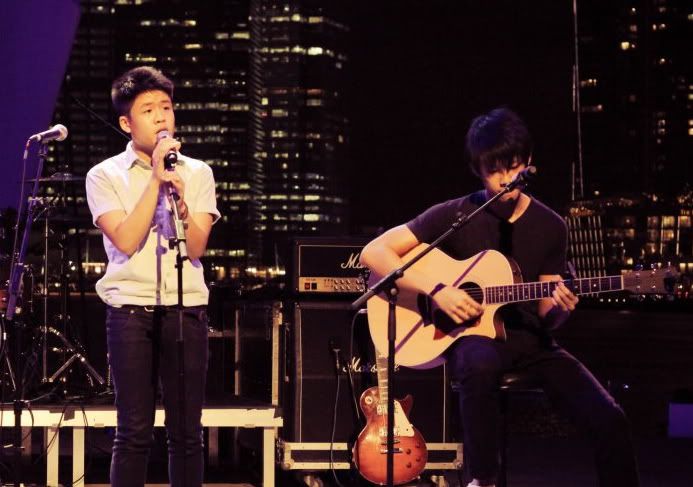 Seventeen year old Joel Tan who goes by the moniker of 'Gentle Bones' for his solo acoustic project does not find it wise to derive his inspiration from a specific genre or artiste. He welcomes the fact that we are often in constant flux, and this includes even his inclination towards his favorite musicians - that too may change in the future.

When asked about his moniker, he muses that it was simply an impulsive attempt at conjuring a cryptic name for his music project



He started learning the guitar at 16 and played vast amount of covers before he finally decided to seriously sit down to record his first song 'The Rarest of Pleasures' with a microphone his father bought him. The reception to his first raw demo was encouraging, garnering positive response from friends. In fact, some of them even covered his original! He would go on to write more songs, two of which are called 'Red Velvet' and 'Waking Up'.
From top: 1. Waking Up (Original - Live Acoustics) 2. Drunk - Ed Sheeran (Cover by Joel Tan)
In the past year, two musicians who have inspired him were Lucy Rose and Ed Sheeran. He was compelled by the intricate beauty and stark originality of their music that has now become a motivating factor to his creative process. The writing process, as with most musicians, is his mode of emotional release. He allows the process to unravel naturally, having had unpleasant experiences when attempting to force a song into existence. Now, patience is a virtue he clings to in songwriting.
" My emotions and opinions are usually the things that drives my will to compose. I've tried forcing songs out before and nothing ever comes out pleasant so i've learnt to take my time with writing. "


The songwriting process isn't the only part that he enjoys. In fact, currently, the production process is something he's learning to thoroughly appreciate. A song in its most basic form would be transformed once he decides on layering it with different harmonies, beats and instrumentals to forge a fuller sound to what started out as only a song comprised of vocals and a guitar. So we pretty much understand his desire of amalgamating different qualities in the hopes of creating something of a greater significance.

It is of no surprise then when he confides that he can't help but feel a tad discouraged with the fact that he is currently unable to merge the influences that can be provided from other genres due to only being able to depend on his ability to play guitar and what he knows of music production. This is probably why, when asked if he was open to collaborations, he replied with a definite yes, ruefully adding that he never was satisfied with just his voice. But that bout of self-consciousness aside, he hopes that people would view his work with an open mind and at the same time be inspired by positive feelings!