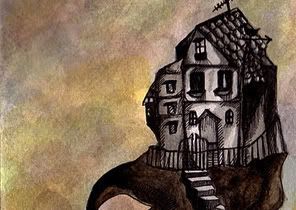 Linying's music is sunny, brave and brimming with love. When asked what spurred her to start her own music project, she responds wittily -- "Assurance, excessively insane and possibly unhealthy amounts of blind bravery." I can't help but recall that famous line from Alice in Wonderland where Alice reassures the Mad Hatter that all the best people are crazy. Not that i'm calling her crazy, of course, but she seems to be in the running to be one of the best people!
Song ideas and melodies come rather naturally for Linying, who has about 50 half-written songs sprawled all over her notebook. The difficulty she says, is in tying the song idea and melody together consistently to a finish. Simply put, coming up with potential song ideas is pretty simple, but finishing it? Not so. She cites a few artistes who've influenced her music and creative process - Ingrid Michaelson, Bon Iver, Simon and Garfunkel, John Lennon and Paul McCartney, Noah & the Whale and Laura Marling.
" What is music? If anyone could explain that, I don't think they'd go through the trouble of writing songs and making music, really. "
Responding to a query as to whether she is open to collaborations with other artistes she replies "It's always fun to see what a couple of slightly mad people can come out with". (I can't help but remember that Alice in Wonderland quote again). She believes that collaboration invites the merging of differing perspectives to create something entirely unique. Artistes stand to benefit through collaborations as the process pushes the walls of their perspectives and general creative thinking process. Having just released her Winter EP, Linying looks ready to continue walking bravely with her dreams in hand.