"January with a Bang!" is an event by the non-profit initiative SPORE Art Salon that will be happening at the Blujaz Cafe on the 31st of January, from 7pm to 11pm in its bid to give Singapore's creative individuals a cracking start to 2012. The night's line-up includes the presentation of a video installation art, a drawing session, a dance-centric hip-hop performance, an acoustic duo and even a National Poetry Slam winner.

More specifically, the drawing session will feature live models, one of whom is Johnston Cheng, who starred in Singapore's film representation at the 54th Venice Bienanale – "The Cloud of Unknowing". Other interesting highlights of the night include performances from musicians like The Russian Dolls, poets, dancers, actors and more.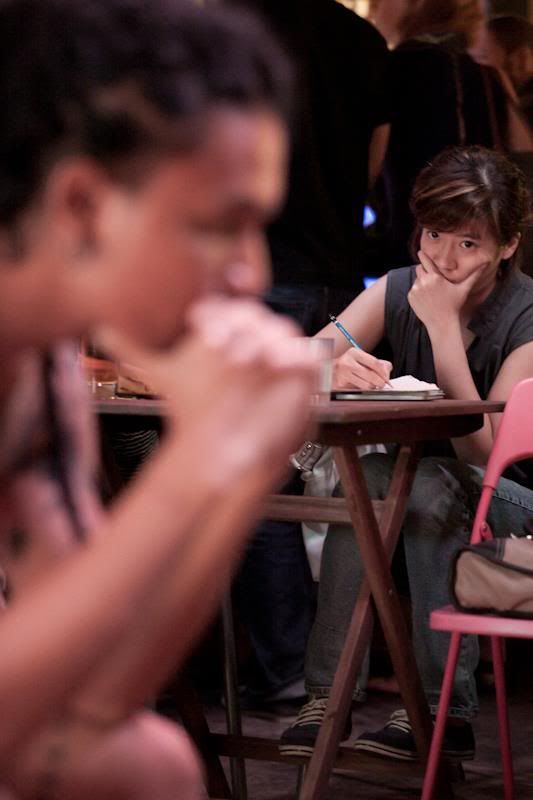 Photos by Christopher Oon.
Also featured at the event are works of, and demonstrations by visual artists, individually or collaboratively. Hosting this eventful evening is a familiar name to SPORE regulars – Johnny Kim.

Below is a list of featured visual artists who will be appearing at SPORE's "January with a Bang!" -
1. Johnny Kim (host)
2. Johnston Anderson Cheng (featured model)
3. Russell Morton (video artist)
4. Lee Jing Yan (poet)
5. Aleksandr Wade (dancer)
6. Ezzam Rahman & Daniela Beltrani (performance artists)
7. The Russian Dolls (acoustic duo)

To find out more about the line-up of artists at "January with a Bang", visit sporeartsalon.blogspot.com