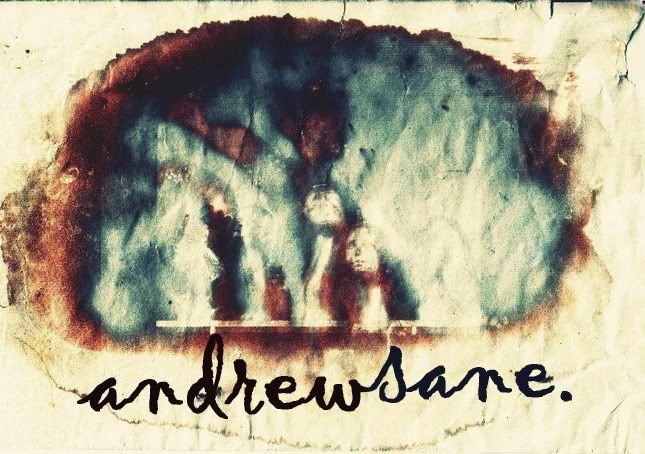 Local alternative bands are hardly known in Singapore and when you hold a certain amount of popularity among us young folks, it would either mean you're atrocious or you're absolutely brilliant. For Andrew Sane, a group of five spunky music lovers, they are certainly the latter. The band, fronted by Joel, features Seran and Moses on guitar with Yong Le on the bass and last but not least, Sherman on the drums. Seran, Moses, Yong Le and Sherman were actually childhood friends before Joel came along to take up the role of lead vocalist.

When quizzed on their band name, Andrew Sane, the boys revealed that it was actually a common topic brought up many times by people they've talked to. Apparently, the name is a reference to the 10 years of schooling life they spent in Saint Andrew's School. After much playing and twisting around with the name, they got to Andrew Sane.

The guys tend to avoid being labeled under any particular genre with claims that they, 'don't usually have a particular sound that we stick to, and we just play what sounds/feels right to us.' Definitely a bonus if you're a fan of unpredictable musicians like me.
From top: 1. Album Art 2. Collision of Walls - Andrew Sane (Original)
Their latest single, Collision Of Walls was recently released and is quickly making its way round the local music scene. The boys have said that the whole idea of the song revolves around the topic of pressure, saying that 'it expresses the pressure each and every one of us face in their life and how we try our best to overcome it. Fears, expectations, hope and faith in all our daily lives played a part in constructing this whole song. The single features a progressive melody with a lot of emotional ups and downs throughout. The lyrics really engage listeners and also pay tribute to the different sources of inspiration for the band such as movies and fine art.

Basically, the whole track is a culmination of all the pressure they face in their daily lives, some stemming from their commitments to Andrew Sane in the first place. In fact, the band has described their biggest struggle as having to deal with schoolwork while trying to push Andrew Sane to higher levels as well as having to overcome their lack of assistance in the technical aspect when it comes to live gigs.
"Collision of walls comes from the analogy that different parts of our lives are divided by certain walls, and when all these walls come colliding, the responsibilities and expectations that are attached to each of them are all piled up, forming a big weight/pressure that we all try to overcome..."
Fans of the band should stay tuned as the guys have revealed that they will be releasing a single in 2012 as well as taking on more live performances.

Well, after overcoming obstacles and having come all this way, the band seems all set for the next step, where they hope to gain more local and international recognition and might even consider doing music full time. With such a burning passion spurring them on, these guys are certainly one to watch. Check them out on their Facebook page to keep updated on news and happenings.