There are definitely more ways than one to use your Post-its, and "Say It With Colours" hosted and showcased 2 murals constructed entirely out of well, you guessed it, Post-its.

This mini exhibition, held from April 13 to 30 2012* at Doodle! Pasta Noodle And Wine Bar (8 Sinaran Drive, Oasia Hotel) , was the first exhibition for the students of Orita Sinclair School of Design. Under the guidance of the school's illustration lecturer Farizwan aka SpeakCryptic, these works aim to encourage the students to be more creative and innovative.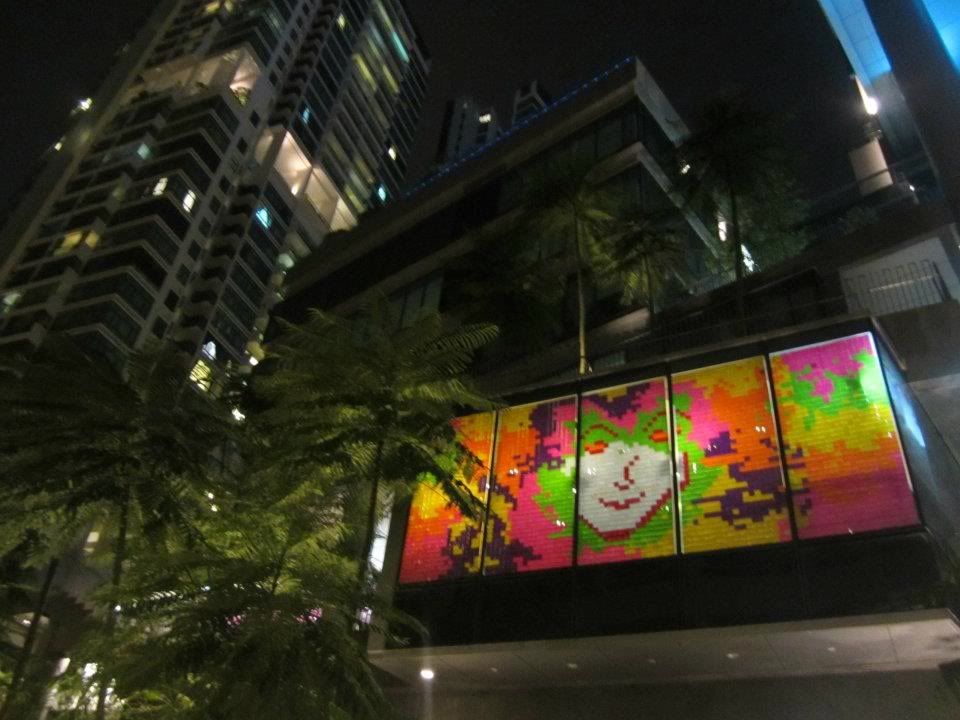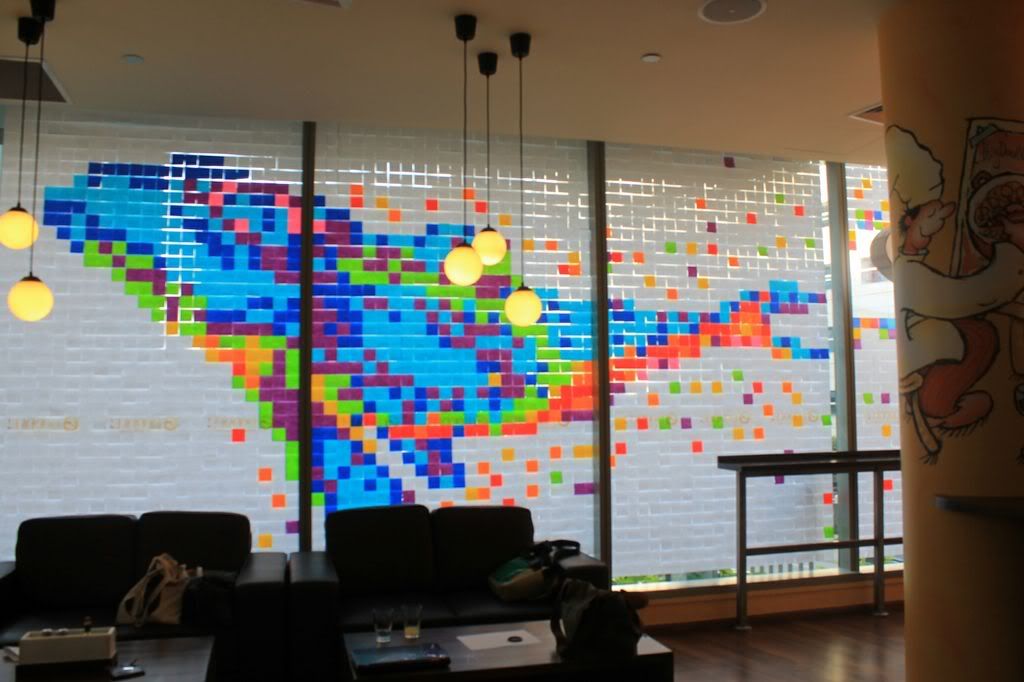 From top : 1.Daniel Desbaillets (L) & Tan Hup Foi (R) 2."The Whale" 3."The Carnival"
Doodle! was the ideal location; tucked away on the 2nd floor corner of the hotel, its cosy and comfortable location provided a great setting (and food) for the opening day. Looking around, it was surprisingly hard to spot the installations and someone had to point it out to me.

I laughed at my folly, and the ingeniousness of their location: the post-its were stuck on to the windows, visible to everyone inside and out.

As people started streaming in, daylight seeped out of the room and the night unfolded.

Speaking to Jessie Chew, Marketing Executive at Orita Sinclair, I discovered that Doodle! had actually approached them as they were seeking to work on an art installation with a design school. The school was heavy on post-it usage, so they thought; why not use post-its as a medium? With their aims in sync, this was the perfect collaboration.
"We wanted to use something really accessible, very 'everyday'. This exhibition is about everyday art, and we want to make the point that art is possible anywhere and with anything."

After 3 days of putting up the post-its, 7 cups of Gong-cha and 12 plates of pasta , "The Whale" was born. Yvonne Chang and Cara Ng, the brains behind this piece, drew their inspiration from their favourite animal.
With the help of many of their classmates, the both of them are more than satisfied with their first exhibition and they are definitely looking forward to more opportunities.
"Everyone has been very kind to us and supportive of our work, I guess this gives us much more confidence in our work as long as we know that people do appreciate it."
Trupti Dorge, formerly a software engineer for 5 years, decided to take a leap of faith one day, and follow her heart.
"The Carnival": her first piece of public work after 2 months of class.
"I'm glad it (my design) was (chosen) because it gave me the confidence that I badly needed. Seeing my design fully realised, it just made me surer that I made the right decision."
*We have been informed that the installation has been removed due to conflict in venue booking.