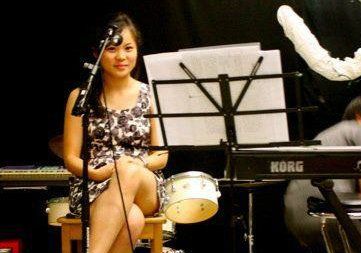 Thousands of amateur videos are uploaded on YouTube by aspiring musicians each day, with the majority of them getting a handful of views before fading into obscurity. But this is a problem unfamiliar to Daphne Tan.
Since September 2010, Daphne has been posting recordings of herself singing covers of radio hits by artists like John Mayer and Kings of Leon on YouTube. These videos have received hits in the hundreds and even thousands. But Daphne has kept her feet firmly on the ground--when asked about the popularity of her music, she speaks of her surprise at the number of views she has received. 'I don't even know where they came from,' she adds candidly.
Gentle and soft-spoken, Daphne doesn't exercise any of the bragging rights that one rightfully gains after garnering a total of almost 8,000 views on YouTube. She explains that good musicians should have a healthy dose of confidence as well as humility, and should never let their popularity blind them from the need to constantly improve their music.
From top : 1.Daphne Tan - Cooler than Me (Cover) 2.Falling Slowly (INCS w/ Daphvader)
Singing has been an intrinsic part of Daphne's life, even before YouTube put her on the radar. For a long time Daphne had played with the idea of showcasing her singing talents online, just like YouTube sensations David Choi and Kina Grannis. It was only after watching David Choi perform live in late 2010 that she received a sudden jolt of inspiration to hop on the social media bandwagon as well. A career as a professional musician may be possible in future, but for now music remains just a hobby.
She is unapologetically fond of exotic forms of music, as well as Southern gospel tunes and music that 'has a deeper quality, not just pure, rash emotion'—like English folk rock band Mumford and Sons. Daphne also counts Lucy Rose, a little known British Indie musician, among her biggest influences.
I like music that has an unspoken quality. Not just pure, rash emotion, but deeper meanings.
But she is more than your typical songbird. After all, not many singers have personalities quite as vibrant as Daphne's. She unabashedly embraces her individuality, which is evident from the generous amounts of artistic license she gives herself when it comes to making YouTube videos. Her offerings often come peppered with various sound effects and silly banter, and the result is hilarious, yet endearing.
Until the right time and opportunity to pursue a formal music career present themselves to Daphne, YouTube is likely to remain her biggest accomplice in her search for recognition. She admits that without it, she might not have had the courage to start singing for an audience. It was YouTube that provided a sense of lessened inhibition—a safety screen between her audience and herself—which Daphne has worked to her advantage. Now, she is driven by the support of her friends and family, who urge her to throw caution to the wind and follow her heart. It is hard to imagine that without YouTube, talents like Daphne could have gone by unnoticed. In her own words, 'YouTube is amazing'.