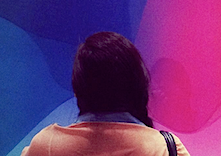 Jollin Tan has been churning out poems for the past twelve years. Her addiction to language stems from the desire to share her feelings and thoughts through writing. Being over-emotional is no handicap for this writer. Instead, it propels her ideas and thoughts, enabling them to take shape on blank spaces. "I've always told others I can't divorce my writing from my emotions, because I write about what I feel." Jollin shares.
She seeks to be a voice for those who feel similarly, possibly to reach out and touch them; to provide a little comfort. Inspiration, she says, strikes her at even the most ordinary instances, such as during her train commutes.

Jollin's childhood was filled with Enid Blyton tales. Upon consuming these stories, she started penning down fairytales and short stories of her own into A5 exercise books. "I loved the stories and now that I think of it, starting to write was only a natural progression," she muses.
Of the many poets, Jollin places the spotlight on Richard Siken and Andrea Gibson, for honest writing and precise wording respectively. Besides these international literary masters, she emphasizes on the prominence of local poet Pooja Nansi in influencing her works, having had the privilege to be taught by Nanci, whom she describes as "a beautiful woman who writes beautiful poetry".
Jollin's admiration for these poets resides in their ability to stir her inside. "I suppose the common point about these poets is that their poetry makes me feel. I'm very big on the feeling thing. When poems make you feel, they never lose their magic. There's always something there."
I write because I must, because the words demand to be said and I cannot refuse it. I write because even if I do not have anything, I have poetry and language and the God I believe in, and that is a lot.
Not all has been smooth-sailing for Jollin in her pursuit for words. She had a bad stumble during her first year in junior college that resulted in an abrupt halt to her writing. "For a long while I'd try to write but it would all just feel so wrong, and I couldn't write about anything objectively, couldn't capture anything in words without it feeling selfish and very self-centered," she recounts. Yet, her undisputed conviction to surface issues through poetry successfully subdued her inner turmoil, and she regained confidence in writing.
Sadness, strangely enough, is a motivation for Jollin. She speaks of how the things that upset her are actually the things that keep her writing. "I do realise that when I hurt the most, then the poetry comes easier. I don't feel like those pieces are selfish anymore as well, because they are real issues that may haunt others too." It is this desire to let her troubles take flight in a tangible form, which eggs her on to produce new works. Jollin's undying love for language will see her advance in either literature or teaching. Regardless, she will continue writing for a very long time.