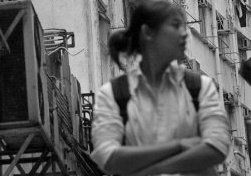 Ng Yiqin is a recent English Literature graduate of Nanyang Technological University (NTU). She explained that her first film was one of the "I don't really know what I want to make, but let's just do it" moments.
Being a Literature student, she had thought that as long as she had a great story, the rest would be easy. She soon learnt that that wasn't enough.
"I knew next to nothing about directing, producing or editing. I was totally clueless about everything and went with my feeling. Luckily, I had a very supportive cast and crew with me. I think I was the most inexperienced out of the whole team… The final product wasn't fantastic, but the whole journey was so worth it."
Yiqin has gone a long way since her first film experiment despite not being professionally trained in film. She has gone on to dabble in cinematography, editing, producing, directing as well as writing short films. "Homebound" and "Why Do I Keep Ticking" have both won awards at the inaugural 2011 CiNE65 competition in Singapore while the films "Vanishing Air" and "
The Dreamer
" have both been selected to be screened in Philippines, Manila and USA, West Virginia respectively.
From top : 1.Short Film Show Reel 2.Boy 3.One
Yiqin's short film "Boy" in which she had written, directed and co-produced, won the Grand Prize at the Ministry of Health Live On Competition that took place in Singapore last year.
The winning film "Boy" was selected from more than 60 entries as it accurately revealed the pains and hopes of patients who wait as long as their entire lives for an organ transplant.
She cites her source of inspiration as tuning her sensitivity into everything that happens around her everyday.
Park Chan Wook and Greek director Giogos Lanthimos are listed as some of Yiqin's favourite directors and cinematographers. Giogos Lanthimos's film "Dogtooth" has left a particularly lasting impression on her. "I am deeply inspired by how he carved out this piece of surrealism from a mundane family setting. In the same way, that is what I hope to do with my work too – to reveal something spectacular from something often overlooked."
Be it a little chance encounter or just a moment – all these inspire me. Even something as mundane as having a meal or going on a bus ride has the potential to carry a story within it.
She expressed her keen interest in further exploring the issue of rape in her future films. She has directed, co-produced and edited two short films titled "One" and "
Two
" for the Association of Women for Action and Research (AWARE) but believes that she has barely scratched the surface of the intimate topic.
"It was very unfamiliar, a little tense, but the performance that came out from it was amazing… I had a taste of it, and now I want to jump in and go deeper into all these motivations and intensity that comes with exploring such topics."
When Yiqin is not busy developing new story ideas or delving into new realms of film, the English Literature graduate cites reading and cycling as a couple of her preferred pastimes. "I love indulging myself in books. The immersive experience helps me relax and allows me to mentally travel to another place. Other times I love to just get out there and cycle."
Local filmmaker Royston Tan was named as one of Yiqin's biggest inspirations and she strongly hopes to be able to work with him someday. "I think his earlier works really paved the way for a more alternative form of Singapore filmmaking. Considering Singapore's unique media climate, I really respect him a lot for what he did for the local filmmaking scene."