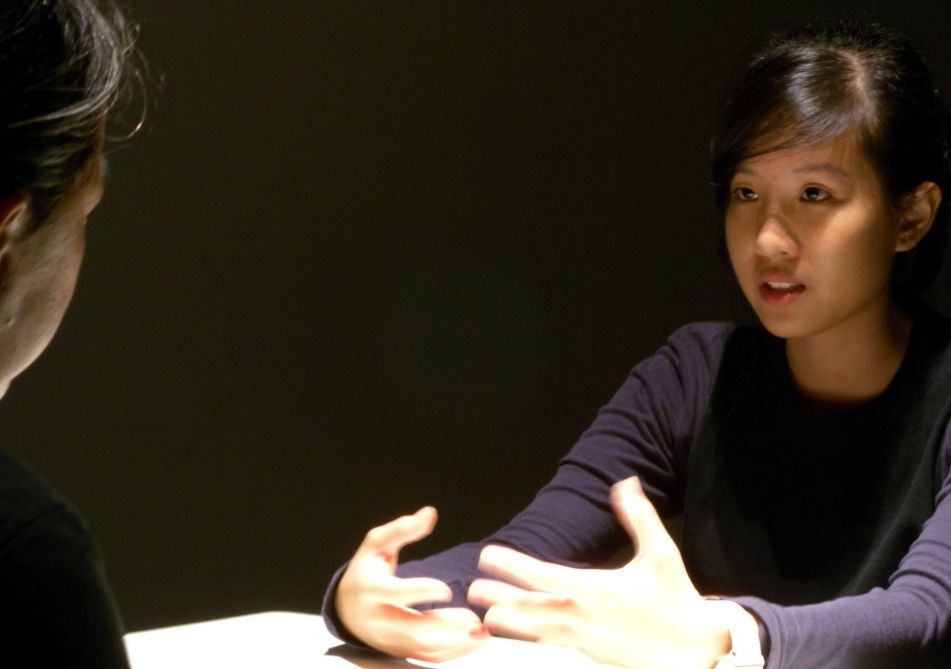 "Please line up in a straight row!" were the instructions we were given before we could proceed into the venue for our performance-based installation cleverly titled "Advanced Studies in….. (Ten lessons for life)"

Upon heeding this request, someone immediately commented "We're lined up like students walking into a classroom!", and it struck me that it was exactly what Heman Chong, the curator and mastermind behind this performance, had intended to emulate.

By appointing 10 students from the School of the Arts with the role of teachers, Heman encourages the audience to see life through the eyes of teenagers, while sharing the wealth of accumulated knowledge that has shaped his philosophy as an artist over the past 10 years.

When the doors were opened for us, we were greeted by the students and were paired off with one at random. This meant that no two experiences would be the same as each student was given charge of a different topic. Furthermore, due to the unpredictable nature of conversation, each audience was promised a performance unique to that individual. Thankfully, I found myself discussing a topic that I found great interest in - "advanced studies in the possible meanings of life". Other topics included "advanced studies in ethics of biotechnology" and "advanced studies in alternative histories", the most challenging lesson being "advanced studies in existentialism". The entire performance took place in a dim gallery at School of the Arts and lasted for 45 minutes.

In an attempt to model the setting after a classroom, individual tables were arranged at a distance from one another. Each table was accompanied by two seats and was comfortably lit by a soft spotlight just above our heads. Though initially intimidating, this intimate setting facilitated smooth and honest conversation between my "teacher" and me.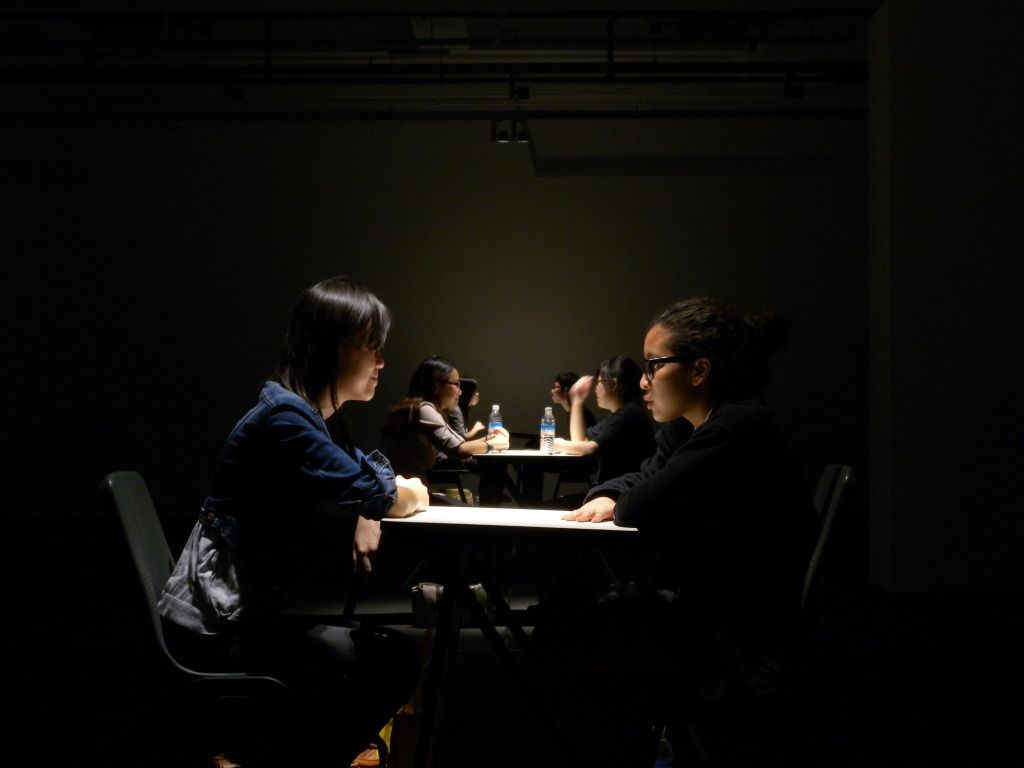 Truth be told, I did not know what to expect from this performance. All I knew was that I would be conversing with an individual 5 years younger than me, on complex topics even I am not familiar with. I felt skeptical of what was to come as the entire concept seemed juvenile to me. I can, however, say that the quality of discussion brought up during those 45 minutes surpassed any and all of my expectations.
From the get go, the student I was paired with, an enthusiastic 15 year old boy, made it clear that his job as my teacher wasn't to give me any answers, but rather to get me to think deeper and to gain a new perspective on the topic we were discussing- the meaning of life. He started off by explaining the main themes of the book "The Sirens of Titan" by Kurt Vonnegut, and from there our discussions took flight.
As our friendly debate delved deeper, it became evident to me that this was no scripted performance, and I was very impressed by the capacity of the 15 year old to think far beyond his years. I was thrown questions one after another that caught me off guard- "do you believe in fate?" "If achieving your goals is what really makes you happy, does this mean it is more important than the process of reaching your goal?" "Is there really a reason behind all the obstacles in our lives or is this just a way of coping with our failures?" We were jumping from topics of religion, to ideas of predetermined fate to different ways of finding meaning and happiness in our lives.
As our friendly debate delved deeper, it became evident to me that this was no scripted performance, and I was very impressed by the capacity of the 15 year old to think far beyond his years.
Though visibly nervous, (cue fidgety hands and a couple of awkward pauses) it only added to the sincerity of the performance, which was essentially a young boy who was just as curious to learn about the meaning of life as I was.
Conversely, I felt that not all age groups would be able to appreciate this presentation, especially the younger generations, as it might be no different from having a friendly banter with just another highly educated peer. Perhaps the line between a performance and a conversation was not defined clearly enough as the arrangement was slightly simplistic.
Nevertheless, the efforts of the students are still very much commendable and I will not be ashamed to admit that this charming 15 year old I was fortunate to meet had helped to put my life into perspective.
Kurt Vonnegut's novel reflected a world where humans were helpless to forge their own destinies since all human action was pre-determined. In case you were wondering what Vonnegut's answer was to the meaning of life, here's a quote from the book that might be his answer:
"It took us that long to realize that a purpose of human life, no matter who is controlling it, is to love whoever is around to be loved."