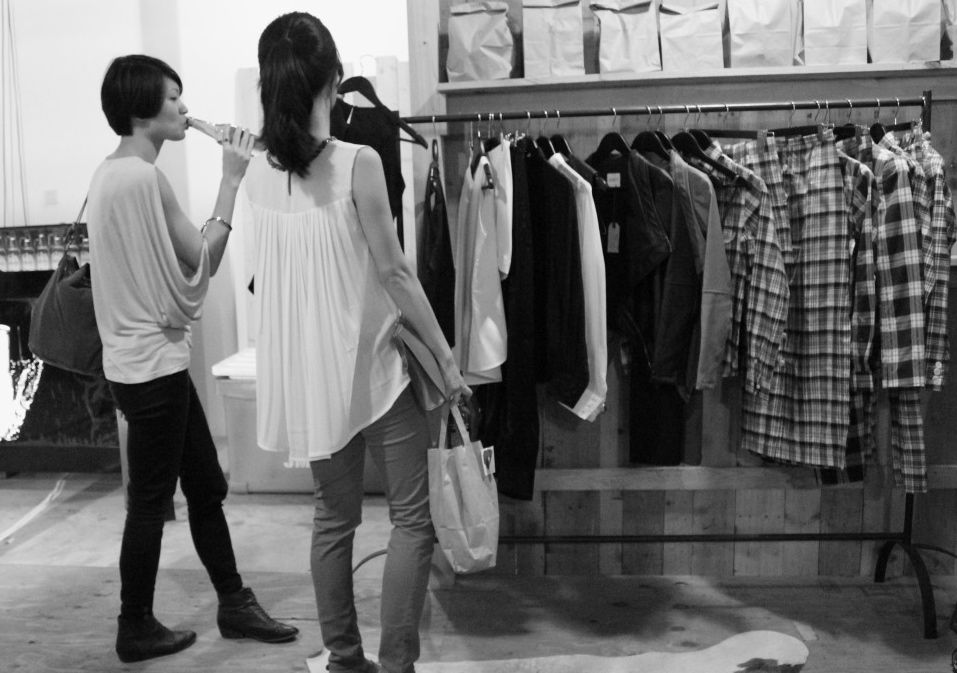 The story behind eclectic local label, Amen, is borne of the collaboration of two seemingly different, but likeminded individuals, with a keen intuition and influential background in fashion. Frustrated by the proliferation of mass-market goods (which lack quality and fashion direction) in the local fashion scene, Amen, the brainchild of Nicole Wong and Clinton Leicester is an initiative to bring fashion created out of the combined likings of both individual into the local fashion movement.
The Amen A/W 12 Collection was recently debuted at Blackmarket no.2 on 29th May 2012.
The Amen A/W 12 collection boasts of a diverse selection of female apparel, including stylishly minimalistic basics, chic leather jackets (specially designed to suit the local climate), preppy plaid blazers and suits, sleek long dresses and not forgetting to mention, gorgeous grungy jewelry.
Both Nicole and Clinton play an active role in the designing of the A/W 12 Collection and as such, the combined, although different, influences of both designers can be strongly perceived in the collection. Upon voicing my astonishment that the plaid series of shirts, trousers and blazers somewhat gives off a slight masculine vibe, Nicole smiles and explains that it's Clinton's take on woman's wear. In addition, the A/W 12 collection is too, largely inspired by music and subculture where both Nicole and Clinton look to bands such as joy division and sex pistol for inspiration. The trademark dark, macabre feel of Amen is also exhibited in the A/W 12 Collection and is seen manifested as high collared, draped dresses that is inspired by nuns.
Apparel aside, the A/W 12 collection also boasts of a precious selection of jewelry featuring Amen's trademark use of crosses and crystals. Most of the necklaces and are handmade and incorporates the use of raw minerals such as crystals and precious stones, to which Nicole is no stranger. She quips that she has been fascinated with crystals since she was a young girl, and recalls visiting crystal shops, under the influence of her mother then, and shows off her extensive knowledge about various types of crystals and their purposes. In addition to the handmade jewelry, Amen also debuts the first of its manufactured jewelry such as metal wrist cuffs, as "such manufactured jewelry have a certain durability about them" and they are too, looking forward to designing more manufactured jewelry.
We wanted to create something that we liked, something more personal than that of the mass market. Fashion that is a reflection of who we are, our inspirations and muses combined.
In addition, the designers of Amen too own an online boutique known as This Is Transition, (www.thisistransition.com) which is also not only renown locally but also in the Indonesian market as where it is stock listed at various boutiques there.
When asked what one can look forward to in upcoming collections, Nicole cites the trademark style of Amen to be something to look forward to in future collections. When questioned about possible collaborations in the future, Nicole answers, albeit mysteriously, "We've been undergoing talks about that currently", and teases us with a "Possibly".
The Amen A/W 12 will be showcased and retail in a pop-up store at Blackmarket no.2 (Orchard Central) for the entire month of June.