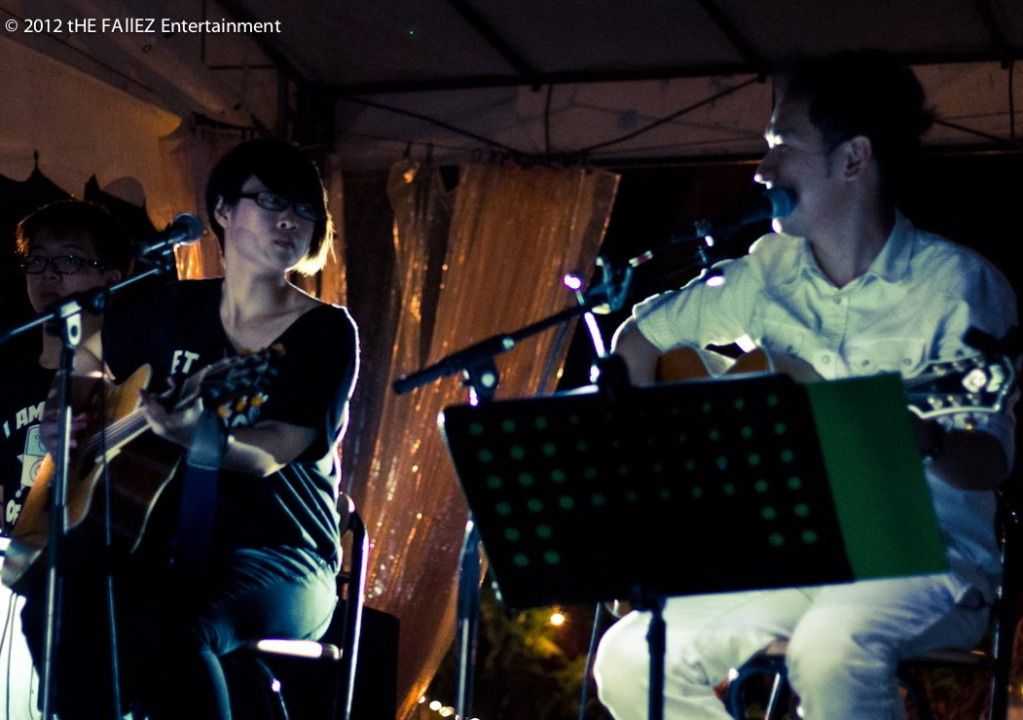 On the 20th of May, acoustic duo Kim + Sarah performed at the Singapore Arts Festival 2012 in a cosy set up at the Rainbow Canopy, Festival Village. The duo, consisting of Kim Ong and Sarah Yap, entertained more than a hundred people during their half an hour session, filled with their renditions of hit singles by Neon Trees, Rihanna and many more. Both members were from the NUS six-piece band,
Sixology
, with Sarah on lead vocals and Kim on lead guitar and vocals as well.
The duo kicked started their set with Animal by Neon Trees. Their voices, though very different, blended pretty well and I have to admit, I was tapping my feet along to their tunes and singing along. Before they played their favourite mash up, Kim and Sarah told the crowd that this was one of their covers that made crowds at previous gigs go crazy. After watching the performance, I'm not surprised they did! It was one of those renditions that will make you like the song even if you didn't in the beginning. It's just like how people dislike a certain song and when someone like Boyce Avenue does a cover, they fall in love with it instantly. You know what I mean.
From top : 1.Photos by
Teo Huey Shyang
2.Kim + Sarah - Price Tag/Where Is The Love? (live)
At the beginning of the set, the crowd merely filled up the three or four wooden platforms but halfway through, the crowd doubled. People who were passing by were stopping to listen to them, and most of them stayed for the rest of the set.
What I liked about their performance was how lively and enthusiastic they came across, despite having a quiet audience to begin. When they told a joke that hardly anyone responded to, they simply laughed it off and continued playing with the same energy. They knew just what to do to engage their audience and get their full attention during the set. Eventually, their efforts paid off and the energy level of the audience rose. There was both laughter and cheers for them, just like they deserved.
People who were passing by were stopping to listen to them, and most of them stayed for the rest of the set.
The set ended off with a Journey song, "Don't Stop Believin'" (don't worry, it was definitely better than the Glee version), to applause from the crowd. Overall, I'd say it was an engaging and pretty impressive set. It wasn't one that merely focused on the music and forgetting about interacting with the audience. Kim + Sarah are definitely worth thirty minutes of your time.
For those of you who would like to check them out, visit their
Facebook page
. They're one acoustic duo to look out for!