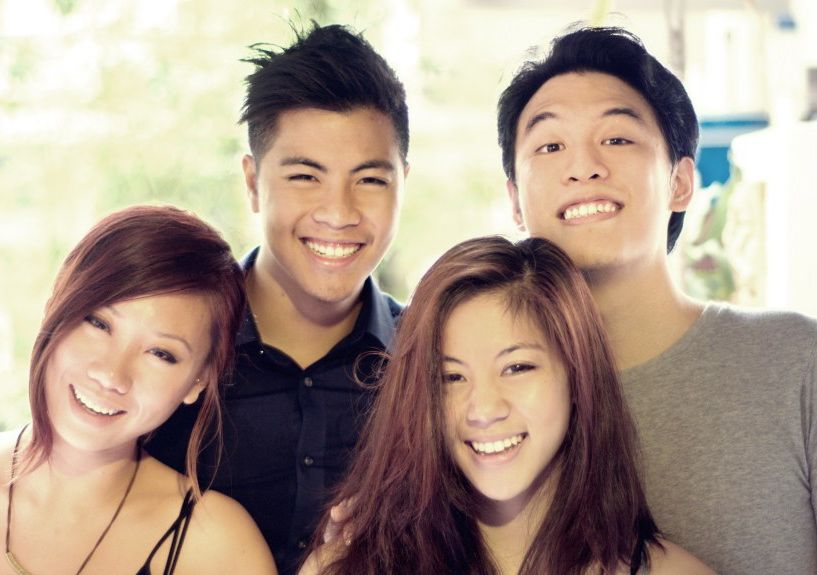 Strong, soulful vocals. An effortless charisma. A genuine desire to spread one's love for music. These are just some qualities that can help any musician go far, and local band The Sam Willows possesses all of the above.
The Sam Willows consists of four friends, with Benjamin Kheng, Narelle Kheng and Sandra Tang lending their voices to the project. Jonathan Chua is the band's residential axe-man, his guitar work adding the fourth voice to their sound. (Quick fun fact: Benjamin and Narelle are siblings!)
It took months of procrastination, countless jam sessions-cum-supper binges, and mulling over all the gear they had and no proper place to use it, before they finally took action. In starting something daunting, there's bound to be "inertia", Benjamin explains. But they could no longer suppress their love for the craft, and began putting their raw talent and creative energies to good use.
What's more, with the band's diverse influences, they were curious as to how their eclectic tastes would mesh together. Without a distinct foreman, the band toyed with the idea of an alter ego that could best embody their combined sound and feel. Essentially, as Narelle puts it, The Sam Willows is "us in collective energy," and the name stuck.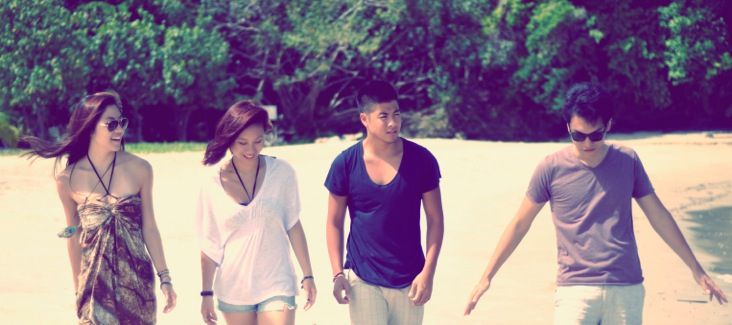 From top : 1. Hey Soul sister/We are Young (Cover) 2.Glasshouse (Original)
To date, the quartet has done (a mixture of covers and originals), like Animal (Neon Trees). More recently, they have composed an original arrangement, which is a sensitive sounding mash up of Hey Soul Sister/ We are Young. "It's about taking the blueprint of songs that resonate with us, and adding our own architecture to it," the band says.
Their individual tastes are wide ranging- a melting pot of genres consisting of pop, texas blues, soul, gospel and a dash of indie, folk, and a-cappella. For instance, Jonathan has an affinity for the blues, whereas Benjamin "bleeds folk and indie." Despite their apparent mishmash of musical tastes, they aim to create a sound that is concise and distinct, and forge their path in the aural atmosphere, so to speak. Sandra quips, " We all eat out of each other's rice bowls and that's what makes it so much fun."
Inspiration can stem from anything aesthetically and aurally pleasing, says Sandra. For Benjamin, film soundtracks can paint richly vivid cinematic worlds, like those by American composer James Newton Howard, who he professes to be a "sucker" for. Jonathan immediately cites Jack White, lead vocalist of The White Stripes, who he feels is "one hell of an amazing artist." Narelle offers examples of local musicians like Vanessa Fernandez and hip-hop band Sixx, as they have paved the way for other budding artists.
I know it's verging on cliche, but it's really all about the love for music... As long as we're sharing our love, we're doing fine.
Collaboration is crucial for the creative process, they feel. In fact, back in 2008, Jonathan started a music collective that included local artists like Nathan Hartono, Sarah Cheng-Dewinne, and Tok Xue Yi under the moniker 'Black & White Cast'. Also, as huge fans of the band Sixx, The Sam Willows agree unanimously that they would love to collaborate with them, and describe the way the 9 members complement each other's styles as "impeccable." But collaboration shouldn't be limited to just musicians alone. They are open to working with videographers, multi-media designers and even performance artists, because "art is a team sport." As art students themselves, it would be a "cardinal sin" if they failed to engage others in creative work.
While they dream of performing at bigger venues, and perhaps eventually going on tour, they stress that that is not just their sole end goal. Ultimately, like any self-respecting musician, what truly matters is their love for the music. "Any hopes and plans gravitate around that truth. As long as we're sharing our love, we're doing fine," the band says.
Music escapades aside, the four confess to virtually living under the same roof, and do almost everything together, from bumming around, to movie nights, basketball and traveling. "All completely legal of course," Benjamin adds. Jonathan jokes, " We mostly hang out like every young adult in denial."
With their first EP in the midst of being churned out, and an upcoming performance to look forward to at Esplanade Library on 16th June, they are off to a more than promising start. We're keeping our fingers crossed!