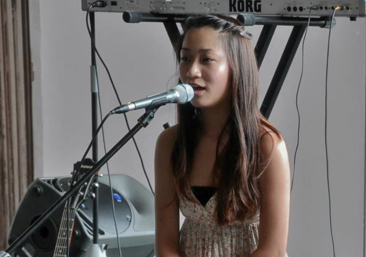 Having just turned 17, full-time student, Marissa Ng, has been inclined towards music from a very young age. In fact, her first recording was an impromptu cover of the timeless Disney classic, A Whole New World, back from when she was just 4 years old, which was why it was no real surprise that she ended up teaching herself how to play the ukelele and the guitar.
From top : 1. Pumped Up Kicks (FTP Cover) 2. I'm Not Gonna Teach...(Black Kids Cover)
Currently, Marissa pursues her passion through performances in school, where her sister frequently accompanies her on stage. She has also revealed that more opportunities to perform live have been popping up recently and that we could get to see a whole lot more of her strutting her stuff on stage real soon.
When quizzed on her most memorable gig, the Republic Polytechnic student chuckled as she recounted the time she performed in front of the entire school for Teacher's Day. "With each word I sang, I could feel this warmth within me. It was an amazing feeling and I loved it."
Inspired by Michael Buble, The Script, and fellow YouTube artist Jayme Dee, whom she thinks is 'one of the best female singers around', Marissa shared that she loves songs with meaningful lyrics and really admire expressive artists that are capable of constantly churning out new songs with depth.
With each word I sang, I could feel this warmth within me. It was an amazing feeling and I loved it.
She also emphasized the importance of encouragement, stating that positive comments are her main motivation to keep singing. Despite the plethora of praise she receives on each of her videos, the YouTube artist is still hesitant to write her own songs at this point of time, fearing that they'll turn out 'too cheesy'. However, she's quite confident that she will eventually step out of her comfort zones and write some original material so that's something we can all look forward to!
With all that talent, most people would tend to get carried away with pursuing their music. Not Marissa though. The New Media student remains grounded and has her studies at the top of her priorities with cooking, baking, and ice skating to accompany her musical interests, which she describes as 'a form of relaxation for her when she's taking a break from work'.
Well, if what she's shown us so far is just her 'relaxing', I'm pretty sure everyone would be eager to see what she has to offer when she's in full flow!