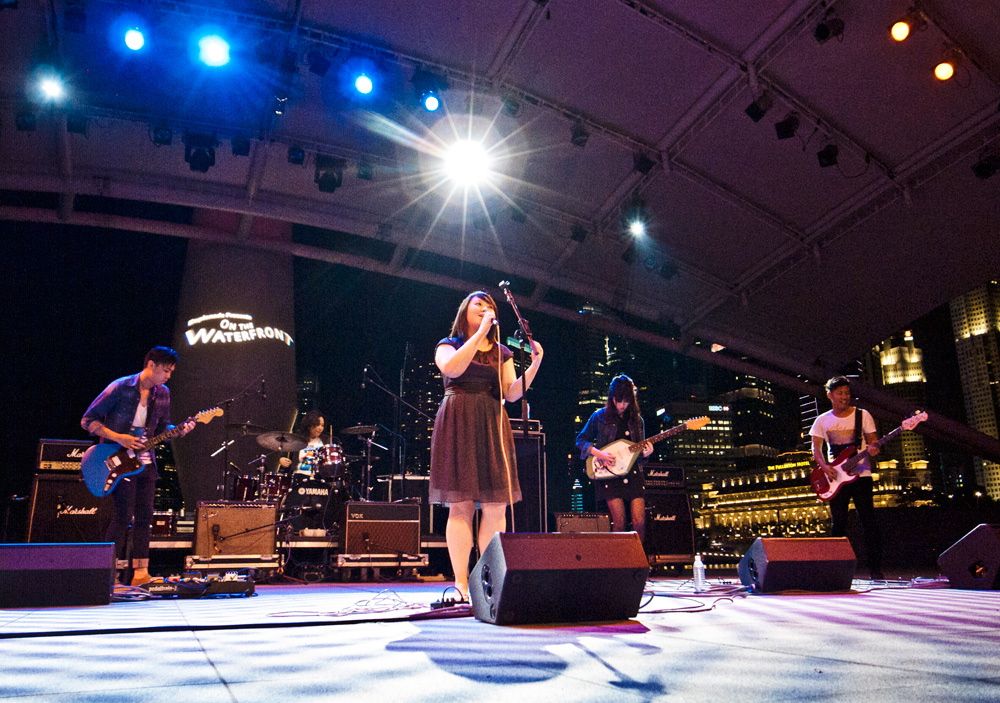 There has been much a-buzz about the fuzz-pop indie band – the Obedient Wives Club. Born out of the rooftop of a tapas bar by lead guitarist Keith Tan, the Obedient Wives Club has absolutely no religious connotations (contrary to popular belief). The band simply aims to bring in fuzzed out girl group indie pop to Singapore's music scene.
The one-year-old indie band comprises of YinQi Lee with her penchant for polka dots and dreamy vocals, Sulaiman Supian on bass and Lennat Mak on drums. Completing the lineup is recently recruited second guitarist Cherie Ko for her dream pop and '60s sound vibe.
From top : 1. Obedient Wives Club - This is it 2. Obedient Wives Club - That Boy
Lo-fi and reverb-laden, the girl-fronted band sounds as though they came right out of the '60s. And despite being relatively young, the Obedient Wives Club has effectively won over the hearts of many. They recorded and released their self-titled four-tracked EP late in 2011, earning the vote by SEA INDIE as one of the Top 10 Southeast Asia's Best Indie-pop Releases of 2010-2011.
Their most popular "This is It" was also unanimously named as the band's favourite. "(This is It) is definitely my " Louie Louie" moment", admitted Lennat.
"It was written during some – shall I say – "tumultuous" times for the band. I came up with the melody by listening to the chord skeleton over and over again during a flight to Hong Kong and some of us came up with the rough lyrics over coffee on a rainy day. It was also the first song we recorded for the EP at Sulaiman's house and the outcome - the first time I heard it clearly - gave me goosebumps", explained YinQi.
Music has always been the escape for me from the daily tyranny of conscious thoughts. I didn't have the privilege to take music lessons. I loved it so much that I taught myself from borrowed instruments when i was young.
They have also played along the likes of local superstars The Great Spy Experiment,
Pleasantry
and Astreal at the Esplanade's +65 early this year.
When asked which was their favourite gig, the band agreed that the +65 was by far their favourite. "I think it was the meeting of all the elements – rain earlier in the day cleared up, we had the brightly lit Singapore waterfront as a backdrop, plus a kick-ass sound system, and best of all, many of our friends and family turned up to show us support", quipped Cherie.
When asked about their love for music and how did each of them fall into it, Sulaiman explained that music was not something he fell into due to enforced music lessons.
As far as the plans for the band's future goes, like true blue indie musicians, the Obedient Wives Club explained that they are happy just writing and playing music (even if it means only Keith's cats will hear it).