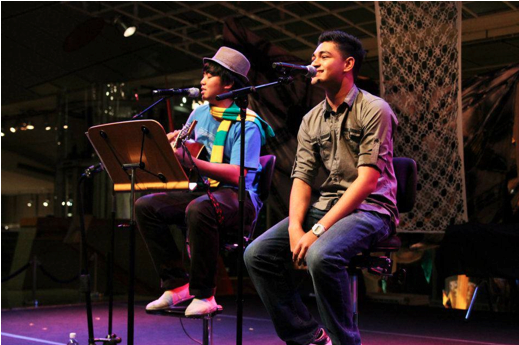 Taking into account the fact that they've already been involved in large scale events like 987's Next Big Thing as well as Esplanade's On The Waterfront: The Young And Free, it would surprise many to know that the duo known as Hariz&Lincoln only came together in August last year. Made up of Hariz Bin Imran and Lincoln Lim, Hariz&Lincoln have attributed their achievements simply to their undying love for performing as well as a healthy dosage of luck. Said Lincoln, "I'm just humbled and thankful for our success."
Despite having different individual styles, the close friends claim that as long as they constantly remind themselves to be flexible and keeping an open mind when working on their music, it's possible to 'marry their styles together'.
The pair has progressed really quickly too, having already moved on to writing their own songs. When quizzed on which one of their original songs they liked the most, the two, without hesitating and in unison, named Just Believe as their favourite because of the complex story behind it.
Considering that the both of them are strapping young man with a talent for music, one would think that they would have legions of fans going crazy for them. However, Hariz has stated that this was not the case and that 'most of their fans are personal friends' though Lincoln, on the other hand, claims that he can sense 'a bra or two flying in their direction soon'!
Hariz: Our drive is to just keep on improving and always put on a good show for whoever is listening to us.

Lincoln: Or whoever isn't. Good music happens with or without attention - it just takes commitment and passion.
Having been shoved under the limelight so abruptly since their inception barely a few months ago, it's unavoidable that the much has changed since then. One thing that has remained unaltered though, is the trust between the two. Hariz went on to explain, "It's really about trusting each other and relying on each other."
When quizzed on what they want listeners to take away from their music, Hariz&Lincoln simply had this to say, "Love all kinds of music and never be afraid to express how you feel."
Well with these guys exuding so much talent and quality, I'm pretty sure everyone will 'love all kinds of music' from Hariz&Lincoln.