The HeartThrob Project (HTP for short) is not just an exhibition space for aspiring wordsmiths. It seeks to reach out from the cyber-sphere to celebrate art, stir imagination, and most importantly, rekindle your heart.
In this modern era, people are so obsessed with the pursuit of material goals that they forget what it means to be human, says founder Jeremy Tan. The HTP, a community-based initiative, hopes to turn that around. "The world is made up of stories," he notes. It is only by sharing our stories that people can feel alive once again, not physically, but in the emotional and spiritual sense.
While the site is largely devoted to prose and poetry, other forms like illustrations, photography, and short films are also accepted. Stripped down to monochrome, free of fancy designs or distracting elements, the site's motto becomes clear: HTP is all about the submissions. We come for the works, and the works alone.
A unique but under-utilized feature is HTP's collaborative element. Collaboration is essentially about "celebration." For instance, one finds inspiration in an illustration on the site, and and later submits his own response to this work, be it story or poetry form. By attempting to enhance the meaning of featured works, this has the potential to build an interactive community that thrives on a constant input of creativity.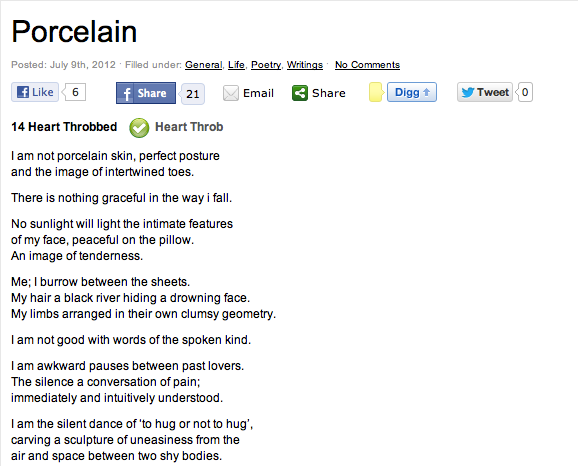 1. Yeah... it's actually a love story by
TheFrost
. 2. Snapshot by TheFrost. 3. A soul's true redeemer by
Sirhan Haziq
4. Porcelain by
Diana Rahim
It's rare to find a site that accepts all submissions in its rawest form, without undergoing any editing whatsoever. The reason behind this unusual move? There is a "subliminal voice" that exists in every one of us, explains Jeremy. A manifestation of our innate desires and repressed opinions, it is "pleading, imploring to be released into the depths of the world." To deny people of the right of expression is just wrong. Furthermore, the subjective nature of art makes it difficult to judge what is good or subpar art. As people appreciate differently, "there is always someone whose heart will throb, because of what you have created." Perhaps this reveals the HTP's tireless striving towards higher ideals. Going beyond recognition or accolades, it gently reminds us about the inherent value of art. And that's where the beauty of this enterprise lies.
The idea for HTP took root during a creative writing workshop in May, where Jeremy met youths with a burning passion for the written word, and who dreamed of being published one day. " Yet there are no obvious platforms for them to do so," laments Jeremy. Hence, the HTP was borne out of a desire to give a space to these voices, which were clamoring so desperately to be heard. With the help of an army friend, the HTP was launched on 13th june this year- a risky venture for someone who had zero experience in setting up, let alone maintaining a website. Yet his determination to help realize their dreams gave him the impetus to push on.
Initially, the HTP faced a drought in submissions, mostly consisting of Jeremy's own writing.Things started to pick up when he publicized the site on Facebook. Though the HTP is barely over two months old, the response has been "overwhelming", which Jeremy attributes to the viral nature of social media.
Art carries meaning, carries messages that demand to be released, that scream for attention.
This may be a reflection of the " exponential growth" in the local arts scene in recent years, which Jeremy views as an encouraging sign. But while local artists are having "larger and louder voices", the arts is still very much stifled by Singapore's unforgiving laws, like the recent Sticker Lady debacle. Still, Jeremy remains optimistic: "Creativity is always present, with or without a lid. In time, the local arts community will learn to adapt and thrive."
Even as he clings on to this belief, his biggest concern is whether the HTP will survive in the long run. Many are content to be passive supporters, merely visiting the site and reading the submissions. For the HTP to truly take off, it desperately needs contributors who are unafraid to expose their hearts to the world and share freely. If no one chooses to step up, the project will eventually diminish, and it will be "a battle lost for the local arts community."
When that hurdle has been crossed, Jeremy's wish is to publish books featuring the works of the site's contributors.
Just like the contributors of the HTP, the founder himself loves all things literary. A self- described introvert, Jeremy relies on writing as an emotional crutch; as a way to navigate through life's complexities and cope with the harsh truths of loss and pain. It is in fiction that he finds an escape, and gains the courage to take on the world again. He says simply, "It is my light out of darkness."'
Helming the HeartThrob Project is one thing, but seeing the project flourish is another. Yet, Jeremy has his heart set on this dream. We'll be urging him on with his favourite quote by poet e.e cumming: "Trust your heart when the seas catch fire, live by love though the stars walk backwards."