Sometimes us bibliophiles stumble upon a picture that stops our heart. Pictures captioned with words like "book swop" or "take any book you want for just 50 cents." And if we saw that photo on tumblr, we would proceed to reblog it with a caption that goes something like this: "I wish I had that here in Singapore."
Well actually, we kind of do. Enter Books & Beer, an independent, non-sponsored initiative by Melissa Low and Eileen Lee. These ladies are socio-enviromental activists who met while campaigning for climate action in Copenhagen during the 2009 UN Climate Conference. If they had a tumblr picture on your dashboard, the words would be, and i'm quoting them directly here, "If you see something you like, it's yours! Absolutely free!"
By the way, they actually do have a
tumblr page
.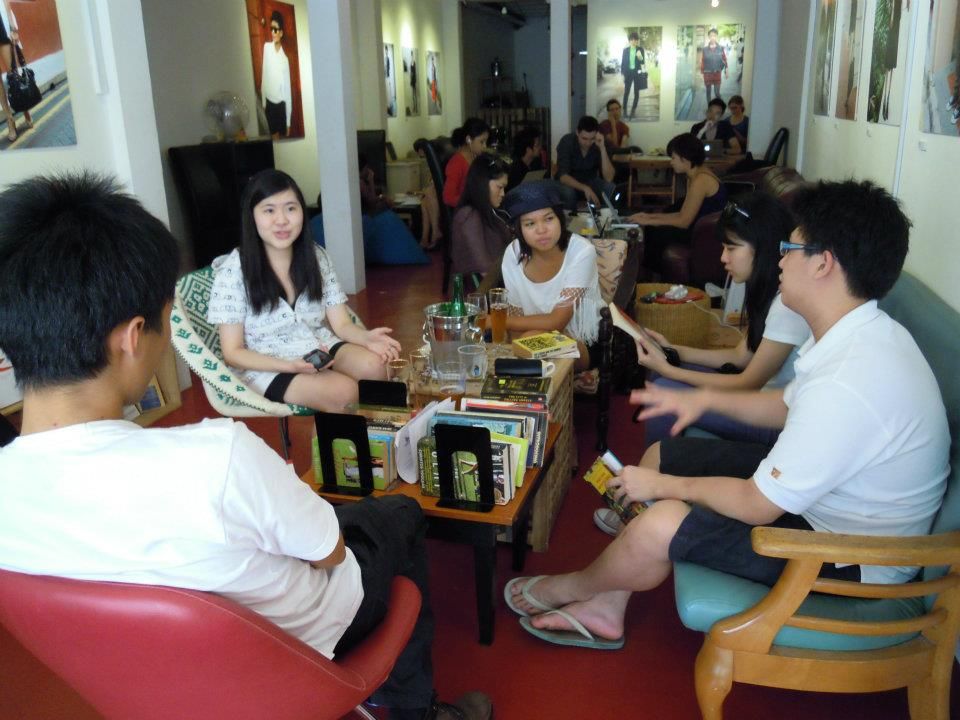 Books and Beer started out pretty simply. Melissa arranged a book-swop with close friends in her home. To entice the uninterested ones, she ordered a carton of beer and organized a hotdog party. Needless to say, it worked. And because it worked, the moniker 'Books & Beer' stuck throughout the subsequent sessions, although apparently most people order coffee or tea. No surprise to me really, since most book readers i know really love their tea. Coffee too, of course, but mostly tea.

So preceding the actual session, they would contact cafes, cars, restaurant or concept stores during their spare time to ask if they could have the space pro-bono for 3 hours at a time. Melissa then updates their Facebook events page, tweets and maintains the tumblr site and mailing list. When the day finally arrives, they set up the shelves, stock up the books and wait for the participants to come!
What really strikes me about Books & Beer is how seemingly insignificant items can be so pivotal in bringing individuals together, and how a small community has actually sprung up around this.

If that sounds deceptively easy, it is only because they have tided over the difficult parts in the beginning. With only 11 people during the first event coupled with the challenging effort of sourcing for venues, maintaining their commitment has been important in keeping these sessions alive. I feel the need to emphasize the importance of appreciating such pro-active people and their selfless efforts in creating and maintaining such wonderful events! However they hasten to add that enjoying the work and finding it meaningful makes it easier. Plus, now they have been receiving offers from cafes who are willing to host them. They also chalk up an average of 70 attendees per event!

As for some of their interesting experiences, you've got to love Eileen's answer: "I don't think there's any particularly interesting stories – we get that from our books (haha!)" But wittiness aside, she has an appreciation for the small community that has been fostered from the events. Melissa shares that "the most interesting experience is how Books & Beer has become for me a platform to catch up with friends and family, and how easy it is to make new friends over books (and a drink!)" Eileen adds: "It's incredibly heartening to see the most unlikely of strangers come together, and how sweet and kind people can be."

What a wonderful initiative. As a little girl, I thought myself to be just like Matilda, albeit without being a genius. But anyway, the point is, if your best friends have always been books and you're unwilling to give away your beloved books to just anyone, then you know where to go. Plus, who can deny that the company of readers is one of the best forms of company? Their next session will be during the Singapore Writers Festival on 3rd Nov. The event will be happening from 5-7pm at Switch by Timbre. See you there!