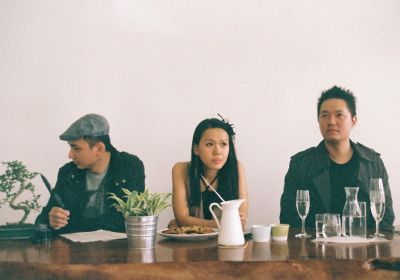 With crystal clear lilting vocals and harmonious melodies reminiscent of azure summer skies and waist-high lalangs gently dancing in the wind, Pitch Feather's music transports you to a landscape that contradicts Singapore's city skyline.
Pitch Feather is made up of a trio of old friends, Alberta, Chuan and Hongliang, who used to play covers in a pop rock band six years ago. "We had a lot of fun together, and those days were probably the best days of our lives," they explained. However, society, life and commitments got the better of their musical journey when they all got bogged down with full-time jobs, resulting in a musical hiatus. It was only when they met for a catch-up last year did they realise that their passion to play and write music has never died.
Their band name "Pitch Feather" is explained to be the very essence of their music. "'Pitch' represents our music while 'Feather' symbolises freedom. Pitch Feather is the search of freedom through our musical journey." They hope that their music would be able to remind their audience about the things that makes all of us human: life, death, kinship, hope and love.
The main message of their album is simple: treasure life with all the things and people that matter. Their music is a quirky blend of indie rock and folk with influences from other musical styles as well.
"As individuals, we enjoy an extensive variety of music; so collectively, we have influences from alternative rock to blues to country to classical to progressive metal. The list can go on, and we believe this musical diversity comes out through the songs. We like each song to have its own unique musical style."
The result is unique musical blend that is easy on the ears. The band's fearless incorporations of instruments such as strings and horns constitutes to an instant click of the replay button whenever a song ends.
In today's hectic world where we spend most of [our] time caught up with [the] struggles of everyday life, people tend to lose sight of the things that makes life meaningful.
If you love how organic their sound is, get this: Pitch Feather is an independent band that does everything themselves; from writing and producing their music to the recording and editing of it in their own humble little studio.
"Because we are an indie band that does all the recording, mixing and engineering work ourselves, we have 100% creative control over our music. And we enjoy this entire process of music production."
While the trio behind Pitch Feather thinks that global exposure is necessary for a band to survive, they believe that a good song will market itself, whatever the targeted audience is. Pitch Feather is still in the midst of producing their debut EP and while the journey may seem long and tedious, they believe that it is important that they take their time to savour every single moment of it.
Readers can stay on top of Pitch Feather's musical journey through their
website
and
Facebook page