At one point in our nation's history, our founding father said: "Poetry is a luxury we cannot afford." But boy are we glad that there are many who find poetry a meaningful investment! One of such individuals is Tse Hao Guang, who claims that he fell into poetry at a young age, and has never looked back since.
Initially, it was the function of language – a substitute for other means of expression that appealed to Hao Guang. Now, he's more interested in what words can do. It is possibilities of words in various styles (be it being minimalist, going all out with wordplay or sticking to the rigid boundaries of formal poetry) that interest this young artist, and he hopes that the way poetry is for him ("a way of seeing things") will help others see things differently too.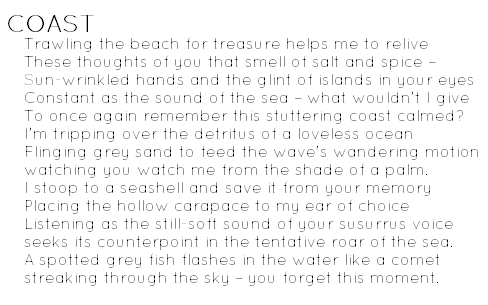 Hao Guang is inspired by the likes of Sylvia Plath, Marianne Moore and the Beat poets (Jack Kerouac, Allen Ginsberg), for their attitude towards life and willingness to think outside the box. His poetry also strongly reflects his faith and his view of God. But more than that, for him, it is other works of art that provoke a response. "Modern art is one such enigmatic beast, music and architecture too." As such, he is open and willing to collaborate with other artists, especially those from different fields, to provide a meaningful response to their works of art, seen in his current involvement in Microcosmos, an art-writing collaboration by local publication, Ceriph.
Other times Hao Guang takes up a persona that differs from his own and tries to force himself into their shoes. This helps remind him that writing is not simply a self-centered act, but a means of connecting people who otherwise would not meet in such an intimate way.
There is a world filled not just with amazing writers or theatre practitioners or sculptors, but filled with all manner of people whose lives are a kind of poetry, too. If I keep orienting my writing to reflect this reality, then I can say that I have done enough.
The number of times he's been published testifies to the quality of his writing: Hao Guang has previously published in the Quarterly Literary Review of Singapore, independent publication Ceriph, anthology COAST and most recently in OF ZOOS, a new literary e-journal. He readily admits that each opportunity of publication has been an ego booster, yet he remains humble and hungry for words. "It would be lovely to get more of my stuff out there, if only so that I can get more feedback on what I'm doing right, and where I went wrong."
Hao Guang is currently involved with the National Arts Council's Mentor Access Project and contributed a piece of flash fiction in the upcoming speculative fiction anthology, The Ayam Curtain. Do keep your eyes peeled for Hao Guang's debut collection, Hyperlinkage, which will be released by the end of this year.